Updated as of 22 May, 2013. I currently have five domains for sale: www.signalhub.com, www.signalcenter.com, www.goldjunk.com, www.bankchest.com, and www.starantiques.com. They are described below:
---
These are my personal domains, inherited from a previous business some years ago. I have not conducted any commercial business with them to date. Everything, thus far, has been my personal property accumulated over the years -- this is my on-line garage sale of my clutter/collections/hobbies from my younger years.
---
"Dot Com" or Domains ending with the suffix ".com" below on this page are for sale. Primarily the Web Site Name or "DOMAIN" name is the essential key element of a website. Although the Art Work incorporated here is certainly not the professional, or Gee Whiz Graphics, it worked for me. Again, I emphasize that it is the Domain Name I'm selling, and some or all the graphics for this website will be the site's owner and his property to do whatever deemed necessary.
Several years ago when I was in business, this website was profitable in selling high cost items like mobile homes, vehicles, and motorcycles. I sold repossessed equipment for a Bank locally. When Banks repossess property they have to advertise it someway. I was commissioned by a bank to photograph and post property for sale. It eliminated time consuming tasks for the Loan Officers; for example, physically showing property to curious or prospective buyers before the commitment; they simply referred the location of the property description to this website which provided all the spec's. See the examples of the first item of "graphics and mobile home." A lot of the prelimary work of show-casing, pricing, and describing is facilitated -- works great. Price: $500,000. Make an Offer.

This is an extremely versatile website which could be very profitable in selling low and medium level-cost items similar to EBAY. I currently sell my personal property that I aquired for many years. It has the potential to be a lucrative business enterprise. Price: $900,000 OBO; I predict this particular web site will eventually be purchased for more as it continues to evolve.



These two Quasi Signal Corps Domains are not affiliated with the US Army and are solely my own personal property; Two domains for Sale: Created and registered in 1999. If I don't sell these two domains soon, I will eventually use them to sell WWII and Vietnam era communications equipment I collected for many years; I am a retired 20 year US Army "Signal Corps" officer and Vietnam Veteran. The name "Signal Hub" and "Signal Center" associated with the preferable ".COM" suffix makes these potentially valuable corporate internet web sites. If you search for them on Google, you will see that they are displayed on the first page: Would you believe that "signal hub" is on the first line of the first page on a Google Search. "Signal Center" search displays this www.signalcenter.com as the 3rd or 4th line below Fort Gordon's Signal Center listings on the first page. Price $500,000 OBO each.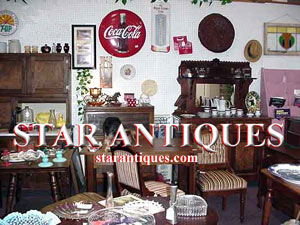 Antique Business Web Domain for Sale: Created and registered in 2002. This Domain Name is not HOSTED or on the internet because I was not ready to publish it. I had, and still have a vast collecton of antiques from my military service in Europe and purchases locally in Texas. I still may, but I'm running out of time, and I have many other interests occupying me now. If I use it, it will be to sell my personal antiques, and not as a business enterprise. Again the name with the Texas Icon "The single or Lone Star" with the word "Antiques" can make a dynamically graphics-interesting logo with the preferred ".COM" suffix makes this a potentially valuable Antique web site. Price $150,000 -- Make an Offer.
You should be aware that there is an Antique Storefront with the Singular Name located in Wimberly, Texas : "Star Antique" and their corresponding web site. I contacted the owner there concerning this sale to dispel any conflicts or disagreements -- none expressed by her. My Registered Domain has the Plural ending "Star Antique's'" created and registered on Feb 2002.
E-Mail Us:
petemtz@hot.rr.com